Sports massage is available Monday daytime and evenings or Saturday evenings. Equine massage is available Thursday or Sunday daytimes. I do have some flexibility so please contact me for alternative times. 
Booking is through Fresh.com with terms and conditions set out via their platform.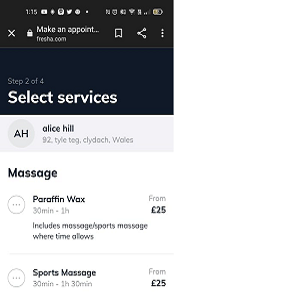 Regular sports massage without heat therapy
massage therapy will be included where time permits. Please choose this option if you know heat therapy is preferable, to allow wax to be ready for your appointment.
Available Thursday 10-2                        0r Sunday 10-2                                        Please message or call to book  
Treatment is FREE, donation towards fuel cost welcome.
Late cancelations and No show fees
Where possible appointment booking is via Fresha.com. This helps me to stay organised and take cashless payments in line with covid precautions. The platform safely processes card information on conformation of your booking to provide a smooth and easy service. The platform sends both e-mail and text message reminders to help avoid missed appointments. Should you need to cancel or re-arrange your appointment please do so at least 24 hours before your appointment. For cancellations less than 24 hours before your appointment a 30% charge of service and for "no show" failure to arrive a 50% charge of service.